21st September 2018
Citing the reason for increment sexual violence in the country, the government is all set to ban the websites that include pornographic content. In a press statement issued by Ministry of Communication and Information technology (MOCIT) on Friday has ordered the regulator Nepal Telecommunication Authority (NTA) to ban porn websites.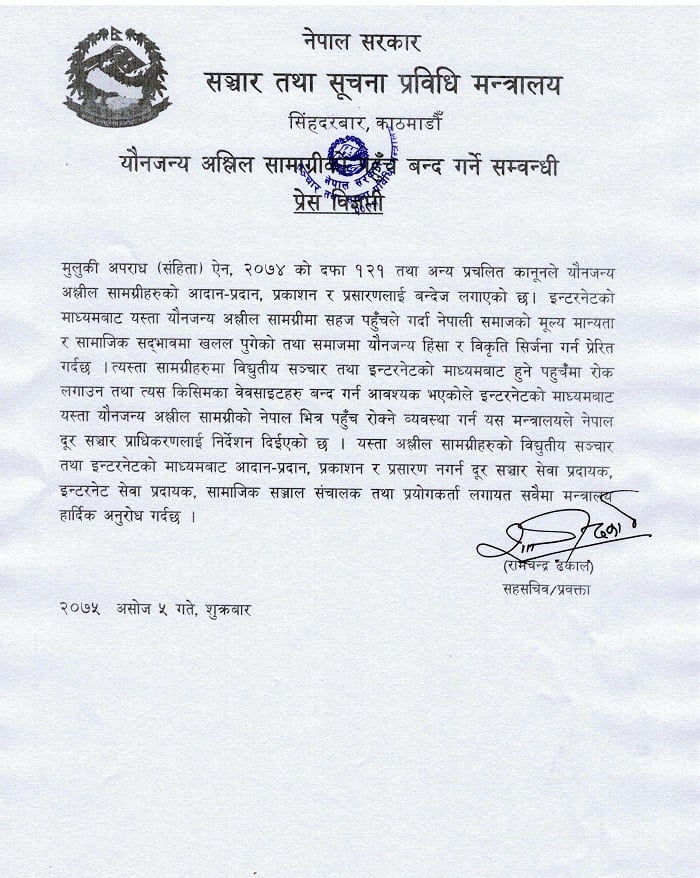 As per the new Muluki Ain (Aparad Samhita) 2074, it is strictly prohibited to broadcast and distribute offensive sexual content.
The government decision on banning porn sites is getting mixed feedbacks, especially from youngsters.
Sexologist claims that the government has failed in proper consultation with experts regarding the decision of Prohibiting porn sites because there are some pornographic contents which are essential for people, such kind of material makes people aware about sexual life.
As per the latest data of Alexa Ranking, – a company that provides commercial web traffic data and analytics, four pornographic sites are ranked on the list of top 50 places in Nepal.
Ashok Rana, a student at VS Niketan, said "government is just wasting their time on the pointless task. Instead of banning pornographic sites, the government should work on enforcing strict rules and regulations."