The much-awaited Nokia 8 has finally made its way to Nepalese market. The high-performance smartphone is the first new generation of Nokia to feature ZEISS optics. Also introducing newly to the addition is Nokia OZO spatial 360-degree audio for an immersive media experience. Nokia 8 shows the most advanced aluminum uni-body design yet and has a dual-sight mode for live streams and split-screen visuals. The smartphone is beautifully designed and boasts a dominant QHD display. Nokia 8 is the first one to receive Android 8.0 OREO update, the latest version of Google's mobile OS.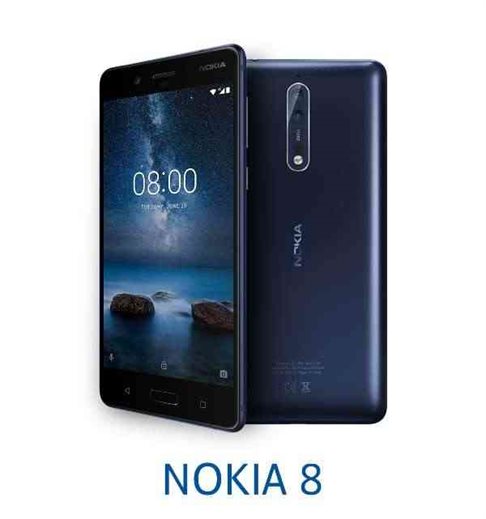 Nokia's comeback to the market was a highly anticipated one. With smartphone companies trying hard to set themselves apart with features such as camera, latest software, processors, and design; Nokia's focus on performance, dual-lens, and battery was a good choice. The Nokia 8 may not take the first place in specific technologies such as a waterproof device or a slim cut, but it is a decent all-rounder that gets the work done without any battery complains.
The Nokia 8 is one of the best looking Nokia phones so far. Its stunning 5.3-inch QHD display is vibrant and bright. The videos are clear and crisp with a high-resolution display. This splash-resistant Android 7.1.1 smartphone also has a fingerprint scanner between its two navigation buttons. The phone's modest battery life with Quick Charge 3.0 boosts device quickly as well as allows hours of phone time throughout the day.
This, amalgamated with 1.8GHz Qualcomm Snapdragon 835 chip-set makes the phone especially useful for handling power. To top it off, the phone includes a liquid cooling system allowing for intensive games without warming up the battery. The phone has 1440×2560 pixels and 554 pixels per inch. With 4 GB RAM, Nokia 8 includes internal storage of 64 GB, that can be extended to 256GB.
The Nokia 8 has a 13MP front camera. Its rear camera is 13MP as well, plus an additional 13MP dual lens is available. This impressive setup has one lens as RGB and the other as a monochrome shooter which means one camera shoots in color and the other in black and white. The dual lens accentuates Nokia's "Be more #Bothie" tag.
One can live to stream a video with its split-screen mash-up, which is a delight for anyone who loves to vlog. Additional features such as Wifi, GPS, Bluetooth, NFC, Infrared, USB OTG, and headphones are available. The Nokia 8 has dual sim slots and supports 3G, 4G/LTE, and GSM/CDMA. Nokia 8 is available in Polished Blue color.
Overall, Nokia 8 offers numerous features in a 5.3-inch device. It is priced at Rs. 62,999.  Also available is another of Nokia's flagship-Nokia 2. The budget-friendly Smartphone's 4100mAh nonremovable battery among other features sets Nokia 2 apart from the rest. Available for just Rs. 11499, Nokia 2 ensures high durability and delivers remarkable quality at a budget.