June 14, 2020, Kathmandu
The webinar on "Girls in Technology Nepal: Opportunities and Challenges" has been successfully completed. The major agenda of this webinar was – Technology is everywhere but where are the girls?
The main objective of the webinar was to shed light on the opportunities and challenges for women in technological fields. Likewise, to aware, educate, and empower girls seeking a career in technology to achieve their personal and professional goals.
Webinar Kicks Off
The webinar kicked off with opening remarks from Mina Aryal of ICT Frame as she welcomed all the chief guests, guests, speakers, and participants. Similarly, the chief guest for the event also expressed their delight in getting a chance to speak in the event.
The moderator for the event, Ms. Dolma Sherpa is the coordinator at LBEF.
Ram Krishna Pariyar, ICANN SSR2 Review Team Member, said that there are many females occupying high-level positions internationally. However, the concept is a bit different in Nepal. Girls/women tend to incline towards household work or teaching or at least it is what's expected from them, according to Mr. Pariyar. So, it is important to promote girls' involvement in technology.
Senior Vice President at CAN Federation, Ratna Tara Baidya highlighted the roles of "Women in ICT committee" of CAN. "If there is a will, there is away. Technology is everywhere but still, the participation of girls is less everywhere," said Ms. Baidya.
Prof. Dr. Subarna Shakya, President at Center For Cyber Security Research and Innovation (CSRI) shed light on the quotas in Tribhuvan University (TU) for girls. These quotas are for focusing their participation in ICT and making them aware of the opportunities. Similarly, it is seen that most girls/women who pursue a career abroad are vulnerable to cyber risks. So, proper awareness is necessary to maintain cybersecurity.
Managing Director at Nepal Telecom, Dilli Ram Adhikari made an appearance by taking time out from a board meeting. He said that women have a huge contribution to the transformation of society and the world. "The current pandemic has changed our lives and shifted us to digital platforms. Policy and behavior toward women should be improved to empower girls in technology." – Mr. Adhikari. He further said that there are many women in top positions in Nepal Telecom.
Discussions from the Webinar
Leena Duwadi – Digital Content Specialist
Leena Duwadi reflected upon the vast presence of men in the ICT field. We need more girls in technology, not to end male dominance but, to empower the population of girls. There is an imbalance in our ecosystem, according to her.
"Women are more emotionally intelligent. Technology requires more soft-skills that women have in abundance. Technology is present and technology is the future. So, we need to provide opportunities to girls in ICT to make our country a better place for women," she said.
There's still room for improving the mindset that the current society has. Women often hesitate due to the restriction from family and society. In fact, educating girls is more of an investment in the middle class and lower-middle-class families. Plus, women don't have any role models to look up to in the majority of fields in technology. However, this is eventually changing and hopefully, we can see a significant change.
59% of the world population is on the internet. In the last few years, social media has become a major source of income. The thought of hunting for jobs after education is slowly diminishing. Instead of people seeking out for jobs, employers are seeking employees and offering them jobs.
The digital aspect is very crucial for growth in today's time and people are slowly realizing that. There are more opportunities than challenges. Ms. Duwadi urges girls and women to start using the internet and social media for social and professional development. "Make the best use of social media. Don't wait for anyone to come and motivate you. Find motivation in yourself and start doing," she said.
Smrita Mishra – Software QA Engineer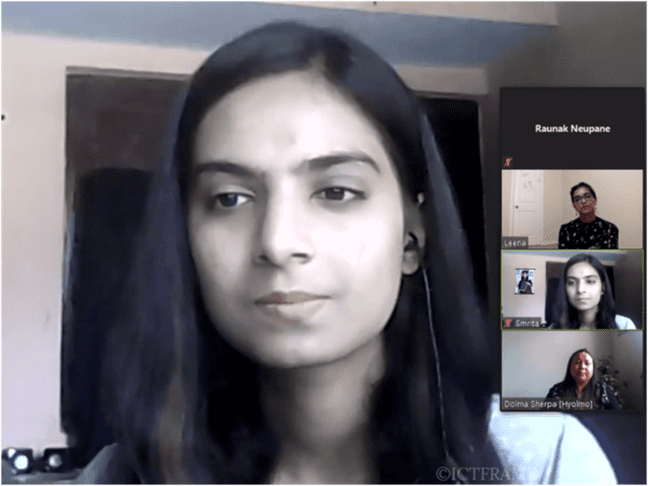 Reflecting on the importance of education for empowering women in IT, Smrita Mishra said that education is the pipeline to increase the number of girls in technology. Without education, we wouldn't know the proper flow of work involved. There are many fields in technology for women to grab a career but without education, we wouldn't be aware of such opportunities.
The theoretical knowledge gained through education can be then utilized for better practical output. Moreover, there are many private and public organizations that are providing scholarships, awareness, and opportunities for girls. They are doing all they can to encourage and motivate women in this field.
Talking about the challenges, she said that they are similar in all fields of technology. Inequality and discrimination are the major setbacks for women that want to pursue a career in IT. Due to such reasons, girls start doubting if they can fit into the job or field.
According to her, everyone requires a positive role model to look up to so that gender role can be broken.
Anu Shrestha – .NET Developer
Shedding lights on the opportunities for women in the technological field, Anu Shrestha said that there are a lot of career opportunities. The growing technology is also generating job opportunities in various fields. "Even after 33% quota for women, we are not being able to grab this opportunity".
When asked to give opinions on the statement "Programming is not a girl's cup of tea", she said that she doesn't agree with it. "The first programmer in the world was a girl – Lady Ada. In fact, in the '60s, there were many girls in programming. So, I don't think there's any gender dependence in programming," she said.
Parishrama Bhusal – Database Administrator
According to Parishrama Bhusal, the challenges for girls start at home. The tech field is something that requires 24/7 support. The main challenge for women is the lack of flexibility and expectations of society. In fact, unconscious biasedness arises in office when there is a fewer number of girls. Thus, the confidence level goes down due to time management issues.
Reflecting on the challenges and opportunities in the database field, she added, "technology changes overnight and we have to be prepared and stay updated."
Problems start early for girls. At an early age, girls get lost in the fairy world whereas boys engage in problem-solving and logical games. Even, the toys are different. So, from early on a mindset is developed for everyone. "When we talk about a nurse, we imagine girls but when we talk about an engineer, we imagine a guy in a suit."
Answering a question from the QA, she said that there is no need to go anywhere else for role models. "We can find it around us and we can define our role models ourselves. Similarly, we can also take Mina Aryal, the Editor-in-Chief of ICT Frame magazine as our role model as she is the first woman leading an online magazine in Nepal."
Also Read: Exclusive Interview With the Women in ICT | International Girls in ICT Day Special
Notable Mention
DIG of Police, Dr. Rajib Subba posted on Facebook expressing the optimism he felt after listening to the speakers. However, he was also surprised to realize that even after 20-25 years, we are still raising the same issues.
"We should be more focused on the specific bone of contention in culture, upbringing, pedagogy on STEM education, and inclusiveness," he said on the post.
He also posted an article published in 1998 on the issue which was titled "Let Barbie doll out, Keyboard in".
Click here to know